Pool Tables For Sale in Olympia / Washington
Browse current listings of billiard tables for sale and contact us to move or install your pool table correctly.

Click Place Ad to Sell A Pool Table
More Information – Contact us to price a professional move for this table
Browse pool tables for sale in Olympia, Tumwater, Lacey, Kellys Korner, Boston Harbor, Littlerock, Maytown and more. Call us for pricing to move these pool tables professionally with our exclusive entire year written service guarantee protecting you from any potential problems with our professional installation.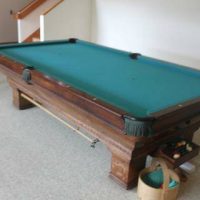 Very nice vintage pool table, comes with original ivory inlays and balls, original que holder included, extras. No delivery.
05/25/2018
Price: $ 1,000.00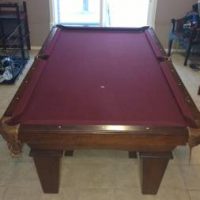 8 foot Connelly pool table in great shape. -Brand new pockets, not even worn in yet. -Felt just recently flipped. -Pool sticks with bridge and wall mount holder.
05/25/2018
Price: $ 3,500.00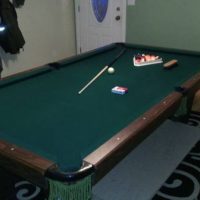 3/4 inch slate, leather drop pocket pool table with all accessories. Pick up only.
05/24/2018
Price: $ 1,400.00
Contact us to price a move for any of these used pool tables for sale or sell a pool table for free.
Olympia Pool Table Movers is backed by the only national organization in our industry.
Pool Tables For Sale in Olympia is a courtesy on us. Search and find the perfect billiard table that you can only find with us.
We are a pool table installers company with years of experience in billiard services in Olympia, Washington
and across the USA. All of our services are backed by ABIA guarantee, for leveling and quality on all applicable pool tables for an entire year after service.